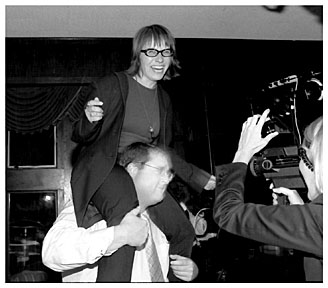 THE LITTLE PACKAGE: $ 2990.00
* Photographer and assistant for up to 6 hours
* Unlimited rolls of 35mm film (usually about 15 rolls)
* Archival proof book and box for spare prints

THE POPULAR PACKAGE: $ 3900.00
* Photographer and assistant for up to 8 hours
* Unlimited rolls of 35mm film (usually about 20 rolls)
* Archival proof book and box for spare prints

THE BIG PACKAGE: $ 5450.00
* Photographer's fee for as long as it takes
* Second photographer/assistant for full coverage
* Unlimited rolls of 35mm film (usually about 30 rolls)
* Archival proof book and box for spare prints

NYS residents add 8.25% sales tax. Your wedding day is usually a long
day...I ask that you please throw us
some food!

ALA-CARTE MENU

Photographer's fee $ 350.00 per hour
Film, processing and proofs $ 45.00 per roll
Assistant $ 225.00 per day
Second shooter $ 600.00 per day
Over time for assistant $ 25.00 per hour (over 8h)
Medium format $ 250.00 extra, inc. film
Double set of proofs $ 20.00 per roll
Photo CD $ 20.00 per roll
Gas, tolls, messengers, special equipment rental, etc... ??????
Travel time is included up to 1.5 hours each way from NYC

Prints:

Machine prints( B/W or color)

wallets..$2.50, $ 2.00 ea. if over 50 from same neg
4 x 6... $ 6.00, $ 5.00 ea. if over 100 from same neg
5 x 7... 25.00
8x10... 35.00
11x14... 75.00 16x20.... 90.00

Custom prints (B/W or color)

4 x 6... $ 10.00
5 x 7 .... 32.00
8 x 10... 45.00
11 x 14.... 90.00
16 x 20... 135.00Other Offerings:
Hand-coloring $ 75.00 on 8 x 10
(detail painting priced accordingly) 125.00 on 11 x 14
Sepia toning (available on custom prints only) $ 15.00 per print
Digital imaging $ 75.00 per hourDigital Thank you cards w/ envelopes $ 3.00 each


FREQUENTLY ASKED QUESTIONS
1. Why is an assistant necessary?
Although it's sometimes possible for a photographer to shoot the job by his or herself, the assistant makes much easier, leaving the photographer free to concentrate on capturing the images. With multi-location events, if the photographer has to worry about parking and unloading the car, it slows us down quite a bit. An assistant helps out at the event by fetching film or equipment, carrying cameras, breaking down lights or ladders when the photographer is finished with them.
2. Does the assistant do any shooting?
The assistant probably will take the secondary camera at times, but they are assistants, which may sometimes mean they are photographers in training and not actual shooters. If you have a large multi-room event or require table shots, it is advisable you hire a second photographer/assistant for a slightly higher fee.
3. What type of equipment do you use?
Journalistic style photographers use mostly 35mm cameras. I'll be glad to use a larger camera (medium format) when requested for portraits. Because the imag is larger, the output is sharper, although with new technologies, it's no longer that noticeable. The drawbacks? It takes longer. I like to ask people what's more important to them....the formal portraits or enjoying the cocktail hour (which is when the portraits are usually done). Medium format is only used during portraits because it's also slower to focus and heavier to carry (other photographers may differ in this theory). I consider it a studio camera.
4. Why are your prices so high/low (depending on who else you've been talking to)?
Yes, wedding photographers charge anywhere between $600.00-30,000 and up. I started out at $600, myself some years ago. I made the decision that it was more important for me to deliver quality work than to charge less and get a quantity of jobs. The latest camera equipment, insurance rates, better assistants, labs and even packaging have driven my rates up. My prices are probably pretty mid-range. I try not to do too many weddings per year because I want it to remain enjoyable and artistic. I don't want my business to become like a factory. I also wouldn't want to charge $5000 and up because I'd be cutting out some pretty wonderful clients who may not have a budget for that.
5. What kind of albums do you offer?
I try to talk people out of those traditional leather bound albums. I do work with some hand-made album people, but to be honest with you, my prices are no better than, say "Kate's Paperie". Since each couple is unique and orders a different album, I don't get them for wholesale. I encourage clients to shop around for their own handmade albums, if they have the time. I will help you select the images, print, lay out and place them in the album for you at no extra charge.
6. What's the difference between custom and machine prints?
Machine prints are just that....no special attention given to them. I do work with a decent lab and they do a good job. Custom prints will include burning and dodging (if an area of the image is too light or dark), cropping and variable contrasts. Machine prints last about 40 years. Custom fiber black and white prints last about 100 years. This is what you would see hanging in museums and galleries. The tonal ranges of "rc" prints just can't compare to fiber.
7. What happens with the negatives or disks?
They are included with your package. I ask that you give me a month or two to print copies for my portfolio before I give them to you. If you want me to print enlargements and create albums, you can have them as soon as I am finished.
8. What if you are unable to shoot the event due to unforeseen circumstances?
If I know about this months in advance, I'll give you the option to choose another photographer. If I fall ill the day before the wedding, I will choose an alternate photographer with a similar style. Deposit will be transferred and they will honor my prices.
9. Do you shoot digital?
My background as a photographer is in fine arts. My specialty is black and white. To me, there is NOTHING like a fiber b/w darkroom print. I don't feel we can be certain of the archival qualities of the digital medium yet. Film and photographic paper has been around for over 100 years. Digital can't touch that! That being said, I have to go with the flow. I do have digital equipment on me at weddings and I have no problem shooting all color in digital.

HOME CHILD/FAMILY REAL ESTATE PETS HEADSHOTS/PROMO/PORTRAIT PERSONAL WEDDINGS
call me! 917-613-4471 e-mail me!